German Accounting & Payroll Solutions Provider Consultinghouse achieves an ROI of 400% by digitalizing its end-to-end customer-facing processes with MyDashboard
MyDashboard helps employers to better engage with their employees as well as with professional employer services provider. Together we build an ecosystem to make employees happier. 
Consultinghouse is a German boutique Accounting & Payroll Solutions Provider. Whether you are incorporating a new business, considering a possible new acquisition or managing your business in Germany. Consultinghouse provides innovative solutions to address individual business challenges that support companies across various industries. Clients engage Consultinghouse's professional advisory services to successfully manage their complete business lifecycle in a strong German economy.
Since 1983, Consultinghouse has been operating its business in the traditional domain of professional services. The classic professional services business is mainly people driven and strongly relies on personal relationships. Consultinghouse now was seeking for a way to investigate the possibility to digitally transform its sensitive people driven business without jeopardizing its many well-established personal relationships with business partners and clients.
Consultinghouse reached out to MyDashboard to assess the possibility to digitalize its core customer-facing-processes. As part of this assessment, MyDashboard experts for digital business transformation have run an in-depth analysis of Consultinghouse's business model.
The analysis also took in consideration the nature and history of the professional services industry, as well as its wider eco-system of stakeholder such as advisors, business-partners, clients as well as their employees.
As part of the result of the assessment, all discovered key customer touchpoints have been categorized in the following three main-areas:
Promotion: The promotion category summarizes all processes used to drive general market awareness of individual professional services. Promotion would also include the engagement in requests for proposals (RFPs), resulting in a customized quote for a defined service package to be delivered to an individual client.
Delivery: As part of the delivery category, MyDashboard expert consultants have identified two types of professional services: One-time, as well as recurring services. In addition, each service has been characterized whether the service is also including the employees of a client or not. The outcome has been visualized in the following simplified illustration:
Collection: The category collection mainly describes the processes around generating invoices against successfully delivered services and in which way to issue those generated invoices to clients. As part of the digital business transformation engagement, MyDashboard expert consultants also took the whole payment and cash-collection process into consideration. Particularly, how this process could be digitalized in a way that would be aligned with the nature of the professional services industry.
MyDashboard has seamlessly been integrated in existing business processes to quickly support Consultinghouse's running operating model. With the integration of MyDashboard in its daily operations, the solution is driving value from the very first day by enabling Consultinghouse, as well as its ecosystem, to digitalize their customer-facing processes, end-to-end and within and across the three identified subject areas.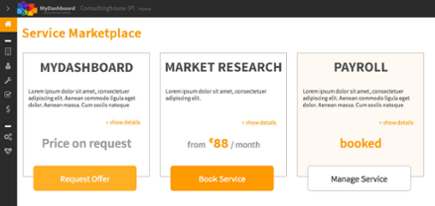 Promotion: MyDashboard provides Consultinghouse with a digital marketplace for professional services. Through the marketplace, Consultinghouse and its partner ecosystem can provide its clients with a general overview of available professional services subject areas. Furthermore, the marketplace allows clients to send Consultinghouse an individual request for proposal (RFP) upon their fingertips. To not subsidize the personal interaction and advisory as part of the RFP engagement, the advisory as well as the negotiations are still executed in a traditional and personal fashion. Once the workload and effort has been estimated, the MyDashboard marketplace for professional services enables Consultinghouse to digitally list each professional service, including the negotiated price, tailored for each individual business client.
Business Value: By providing a user-friendly overview of the overall professional services portfolio, the MyDashboard Marketplace for Professional Services helps Consultinghouse to unlock hidden up-, and cross-selling potentials. Since the marketplace enables business clients to quickly receive an answer to their RFPs for an individual service and to immediately subscribe to an already negotiated service, the overall sales cycle can drastically be reduced.  By unleashing cross- and up-sell potentials with existing business clients and digitally supporting the end-to-end sales cycle, an increase in revenues of approx. 15% per year has been estimated.
Delivery: MyDashboard helps Consultinghouse to digitally facilitate the delivery of its professional services. With this regard, the previously described recurring professional service have been taken into focus, particularly the monthly payroll services: MyDashboard enables Consultinghouse's payroll clients to self-manage their monthly payroll services.
The MyDashboard payroll manager supports the full employer life-cycle, allowing a client to onboard a new employee himself. Individual employees can be added and removed from the running monthly payroll service to a chosen time. Consultinghouse, as the payroll service provider, will receive a notifcation about the new employee along all employee information required to start providing the payroll services.

With regards to recurring accounting services, a Mobile Accounting App has been introduced to digitally facilitate the existing accounting related processes. The app is aiming to increase the overall customer experience by allowing business clients to seamlessly share their receipts and invoices with Consultinghouse's accounting team in a secure and user-friendly manner.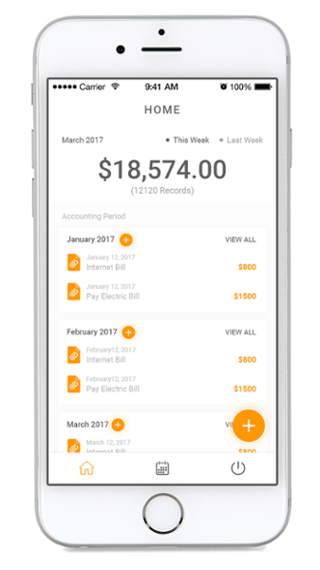 Business Value: While required information, such as sensitive employee data, can be securely shared between the individual business client and Consultinghouse's payroll team, clients are put in full control of their service subscriptions as well as involved costs at anytime and from anywhere. The increase in overall client experience will drive a higher client loyalty. Hence, an increase of approx. 10% in annual revenues based on the digital facilitation of the delivery of professional services has been estimated.
Collection: MyDashboard helps Consultinghouse to automate the whay, how invoices for successfully delivered professional services are generated and shared with business clients. Since professional services can be digitally activated by Consultinghouse for business clients or simply booked by business clients themselves, MyDashboard can regularly check which recurring services are still running, as well as which one-time services have been successfully delivered. This way MyDashboard can automatically generate an invoice for each individual business client. As soon as the invoice is ready for review, the business client is automatically notified through the digital channel of choice.  Upon review, the MyDashboard invoice automation enables Consultinghouse's business clients to electronically pay the invoice right from their fingertips.
Business Value: Before the introduction of MyDashboard Consultinghouse spent approx. 15 minutes to manually generate and share invoices with a client each month. This meant that for every hundred clients, the time required would sum up to a total time consumption of 25 hours per month. Further the accuracy of those manually created invoices was not given before the introduction of MyDashboard.  While the time to generate invoices has been reduced to almost 0 hours per month, clients are able to receive their accurate invoices much faster today. A secure, fast and accurate delivery of invoices to clients also resulted in an improvement of the overall cash-flow of the company. 
"We have been amazed when we experienced what is actually possible" – Martin Wilke, Managing Director, CONSULTINGHOUSE & Friends.
For more information about Consultinghouse, its professional services as well as its partner ecosystem, please visit
To learn more about MyDashboard please visit our website www.mydashboard.cloud